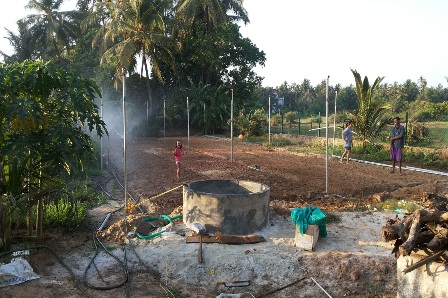 It's quiet, it's calm and it's got plenty of tender loving care. To be precise, it's the perfect environment for the production of luscious vegetables and tropical South East Asian herbs full of flavour – the ideal ingredients for the perfect Thai dish.
When Warren and Dew Vaz decided that they wanted to gift Goa the true taste of Thailand, they knew it wouldn't be possible with packaged herbs and frozen vegetables bought from the imports section of a store. Well before they opened the doors to Thai and Wok, the couple prepared themselves well by identifying essentials in Thai cuisine that were unavailable fresh from the ground here in Goa. Then, in the 1100 square metre area behind their home in Saligao, they overturned ideas for a home swimming pool and badminton court, and converted it into a fertile ground for growing all the vegetables and herbs they would need for the restaurant. Spread across the rectangular garden are rich hues of green that hide the flavours of authentic Thai cuisine. They include thick bushes of Thai basil that gives the green and red curries their unique taste and kaffir lime leaves that lend a singular zest to a host of dishes. Kundan, the gardener, tends to patches of Thai broccoli, Thai spring onion, Chinese kale, thick bundles of red and green lettuce, Pakchoy or Chinese cabbage and Thai brinjal.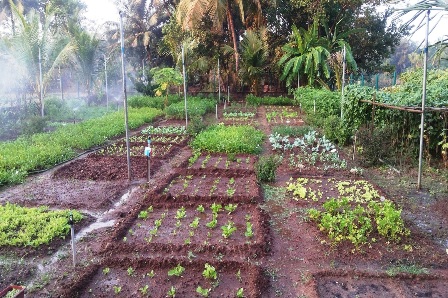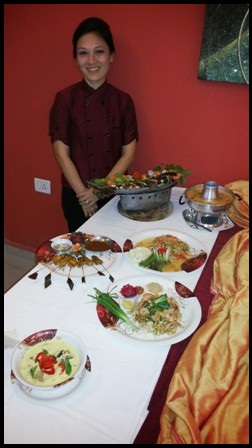 One of the most popular dishes at Thai and Wok is the Pad Pak Bueng Fai Dang which requires the delicious but hard-to-find morning glory plant as one of its main ingredients. Warren and Dew grow their own at the farm, yet it is hardly sufficient to fuel the increasing demands from customers. So much so that Thai and Wok's Pad Pak Bueng Fai Dang must be ordered in advance! The farm also grows the famous galangal or Thai ginger, krachai or finger root, Thai turmeric, chive, Thai coriander, Thai celery, and red and green versions of the fiery Thai chillies. Bushes of fragrant lemongrass, one of the most popular ingredients in Thai cooking, are found there too, along with several plants of Basmati or pandan leaves used in various recipes. Dew wakes up every other morning at 5.30am to prepare the masalas that go into every dish diners eat at Thai and Wok. Using recipes that have passed down the ages, she single-handedly infuses thousands of years of Thai heritage into flavours and aromas that find their way onto the plate. There are many restaurants in Goa that offer South East Asian cuisine, but most use masalas or curry bases that come from a packet or are made using local ingredients as substitutes. It might not seem like such a mortal sin, but those who truly love Thai cuisine and crave its originality will understand the difference the real deal makes. Thai and Wok is not just about eating Thai food. It is about culinary heritage, authenticity and travel that come together organically to give diners an experience they would otherwise have to be in Thailand for.